Dr. Schnell - Circular Cleaning Agents
Industry & Energy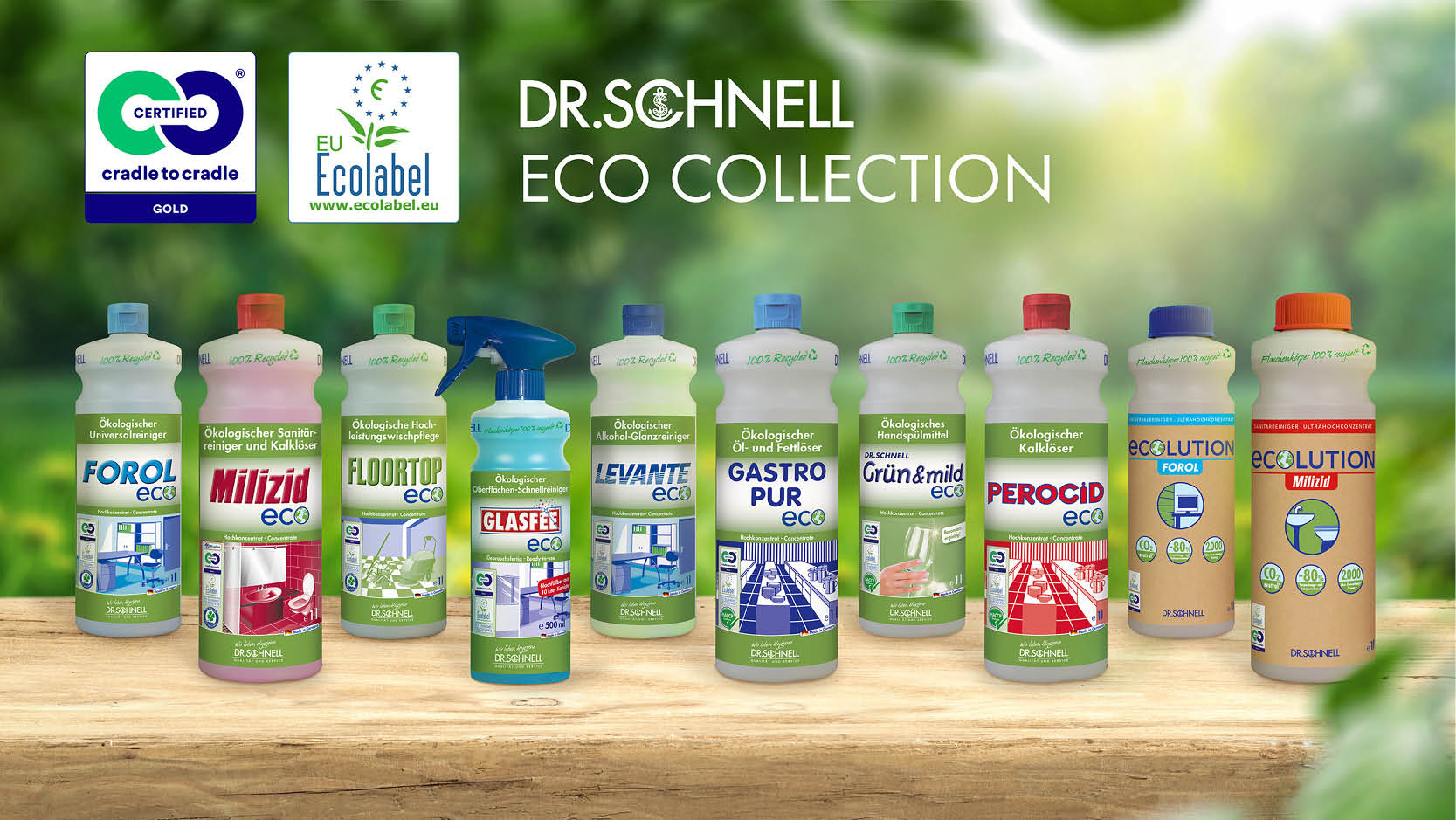 The company Dr. Schnell specialises in the production of cleaning agents for buildings and commercial kitchens. In 2020, the Munich-based company was awarded the Cradle-to-Cradle Gold certificate for its ECO collection of household cleaning agents.
The ECO products are offered as highly concentrated cleaning agents that can be extended with water itself. This reduces packaging and water consumption. The products are free of chemicals that are harmful to environment or human health. Production is powered by 100% green electricity, carried out with regional partners and recycled packaging is used to reduce the carbon footprint.
In the detergent and cleaning products industry, high water and energy consumption still have the greatest impact on the environment.*
With its ecological and technical measures, Dr. Schnell reduces waste by 45% and water consumption by 72%* compared to the rest of the industry, achieving a circular efficiency of Impact Level 1.


Sources:
*IKW | Sustainability initiative
**Dr. Schnell Envorinmental Statement 2022 P.35
Photo © Karolina Grabowska for Pexels
THANKS for your interest!
Are you curious and would like to know more? I would be happy to contact you to arrange an appointment to get to know each other.
Formulare speichern die Daten in Cookies, deshalb funktionieren sie nicht, ohne unseren zu akzeptieren
i can tell
you more
Strategy Studios in Berlin and Stuttgart.

Arrive, exchange, have fun.
It's on us!
DANKE für Dein Interesse!
Formulare speichern die Daten in Cookies, deshalb funktionieren sie nicht, ohne unseren zu akzeptieren