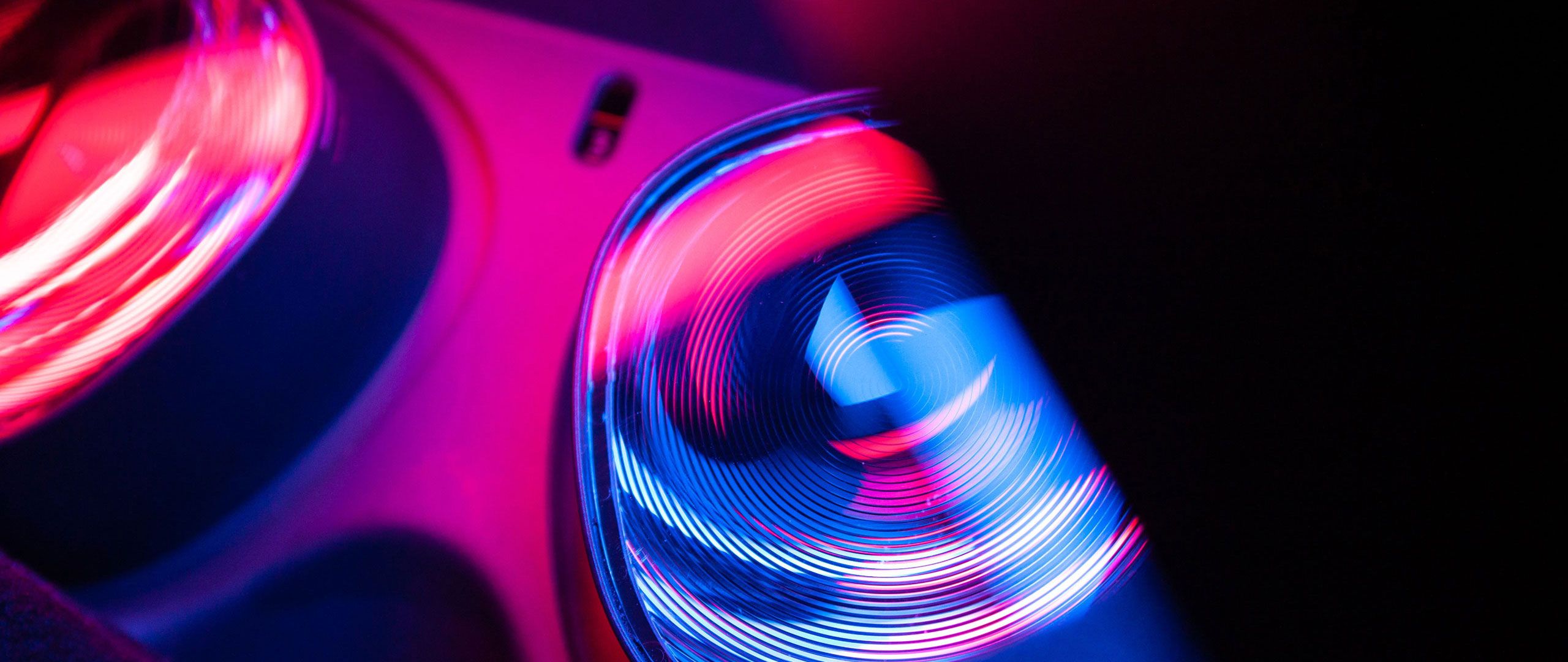 Drivers and barriers in the use of virtual reality glasses
Virtual reality allows users to immerse themselves in new worlds. Technology and reality fuse more and more together. This means users can experience environments that are completely separate from reality.
Using VR glasses to virtually furnish a living room, design the interior of a future car, get to know the new working environment of a company or spend the time off in a digital, virtual world - VR enables many potential use cases that are far from being exhausted and that go far beyond gaming. For virtual reality to really apply in real life, VR glasses must be part of everyday life. In German-speaking countries, only around 1.5 percent of the population own VR headsets.
What are the reasons why many people have had little experience of using them so far? And what can VR manufacturers learn from these consumer insights?
Dr. Marc Herz from the strategy consultancy Kleinundpläcking GmbH and Prof. Dr. Philipp A. Rauschnabel from the University of the Federal Armed Forces in Munich explore these questions in their recent study "Understanding the diffusion of virtual reality glasses: the role of media, fashion and technology," published in 2019 in the journal Technological Forecasting and Social Change. Using a representative quantitative online survey, they asked N=611 German consumers* about their position on the wearability and potential use of VR glasses.
Figure 1: Forecast for virtual reality sales worldwide from 2016 to 2021 (in billions of US dollars).
Figure 2: Forecast for the number of virtual reality users worldwide from 2016 to 2020 (in millions)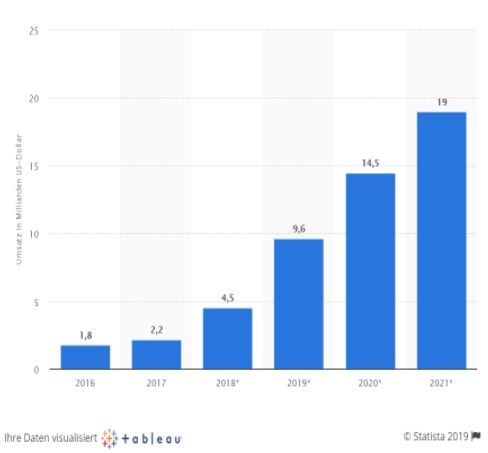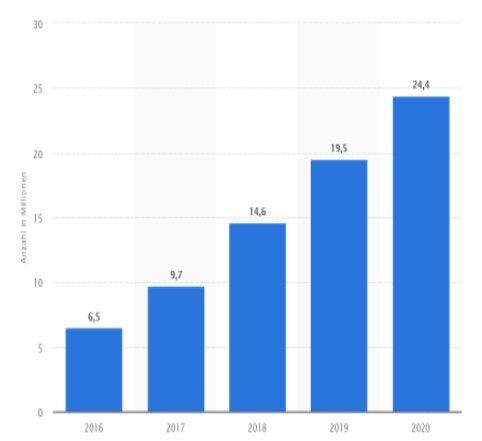 Drivers and barriers for the use of VR glasses.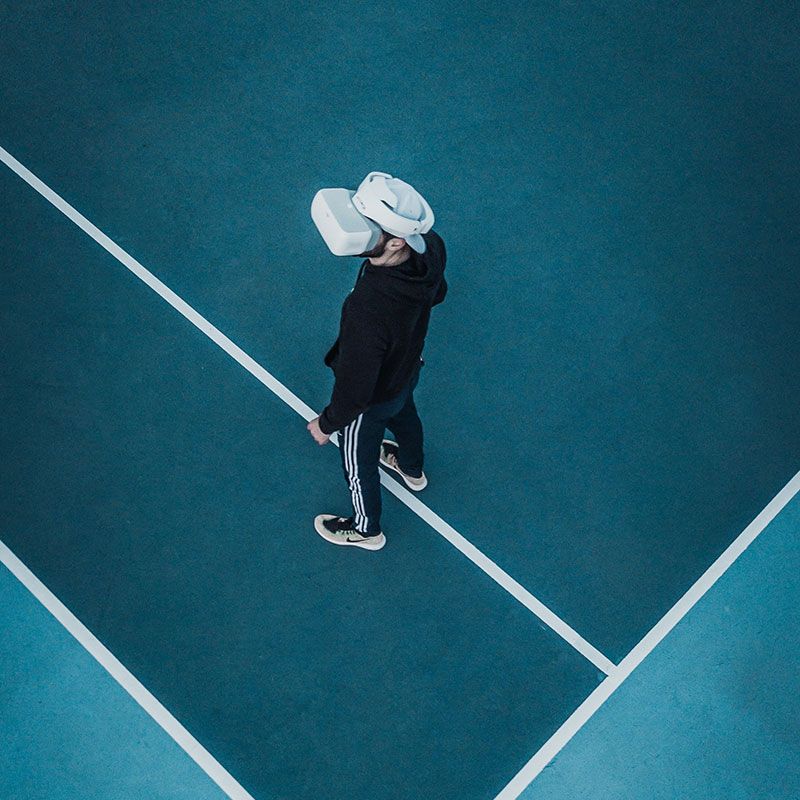 DRIVERS
The survey results clearly show positive drivers for the use of VR headsets. Most consumers see an added value of VR headsets especially when it comes to their functional usefulness (for example, performing certain tasks more easily) or their entertainment value, so their entertainment factor.
Respondents also clearly see the media components as an advantage of VR headsets, this means virtual presence and "virtual embodiment" - in short, the possibility of virtual immersion in new worlds.
While wearing comfort significantly influences the position of the respondents, they see potential in VR's fashion component, so its perceived fashionability. Accordingly, companies should not only focus on technology itself, but should always keep in mind that virtual reality headsets will also require to be comfortable and visually appealing.
BARRIERS
Most respondents associate the use of VR headsets with privacy risks. There is a fear, that private data is collected and used without consent. Objectively, privacy risks are much higher with many other technologies that people use (more) intensively - such as smartphones – but they are not perceived that way. To minimize the perception of risk, trust building measures are clearly recommended for VR manufacturers and distributors.
Physical risks, like a fear of injury due to loss of control of the surroundings, and a fear of psychological harm had no significant influence on the position of the respondents. However, they stated fears of health risks, particularly a fear of eye damage when using VR.
LESSONS FOR BRAND MANAGEMENT
Brands that embrace virtual reality early have a good chance to benefit from early developments. IKEA, Lego, Domino's Pizza and others already demonstrate with their apps what is possible. In this context, keeping an eye on this underestimated potential and taking advantage of it is important.
Rethinking product development when integrating virtual reality is also important. So far, the focus has been on pure functionality and technology. In the future, the design aspect will play a much greater role in the wishes of consumers. Focusing on the gaming industry enabled the technology to mature to a high degree but reduced its reach outside the group of early adopters. Considering mass suitability, further reducing the size of the devices, making them more fashionable and offering them at lower price points must be the goal now.
Virtual reality enables new touchpoints in the customer journey, which may complete or even revolutionize the customer experience. VR allows companies to approach and present themselves to their stakeholders in new ways. Virtual reality enables new touchpoints in the customer journey, which may complete or even revolutionize the customer experience. VR allows companies to approach and present themselves to their stakeholders in new ways.
VIRTUAL REALITY AND HUMAN FUNCTIONALISM
In our daily work as strategists, we are driven by the overarching question of Human Functionalism: In an era of digitalization dominated by enthusiasm for technology, how can we strengthen the human perspective? How can we give human rhythm to a growing technological pace? Do we not only need to sharpen but also rediscover or even redefine our instincts to protect the humane?
VR can bring us closer to distant realities. Aid organizations, for example, use VR headsets to show us the plight of refugees. Human rights organizations let us see the world from the perspective of persecuted minorities. But VR also lowers costs: designers use VR to develop cars, doctors and pilots train for emergencies in virtual training environments.
VR can distance us from reality. If we create new identities that allow us to escape from our here and now in virtual worlds, we can gain new experiences. Who never wanted to feel like a Formula 1 driver or a rock star? But the danger lies in the amount. If we spend more time in virtual realities than in real ones, we run the risk of not only losing touch with reality, but also of losing any sense of humanity. Because if we can act without consequences, we neglect the social aspect, and everything revolves around itself. The result would be everyone against everyone.
THANKS for your interest!
Are you curious and would like to know more? I would be happy to contact you to arrange an appointment to get to know each other.
Formulare speichern die Daten in Cookies, deshalb funktionieren sie nicht, ohne unseren zu akzeptieren
i can tell
you more
Strategy Studios in Berlin and Stuttgart.

Arrive, exchange, have fun.
It's on us!
DANKE für Dein Interesse!
Formulare speichern die Daten in Cookies, deshalb funktionieren sie nicht, ohne unseren zu akzeptieren